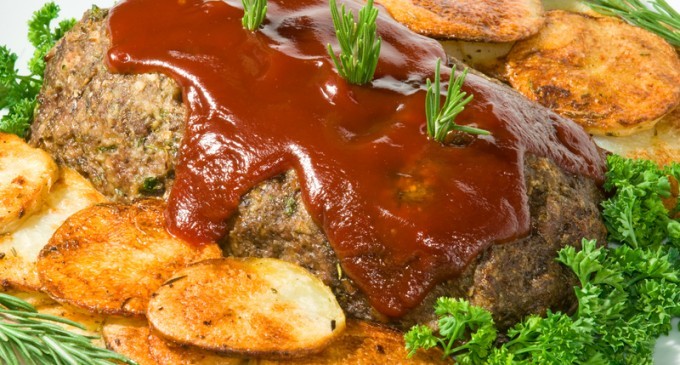 Meatloaf
is the American staple at the dinner table because it is fast to make, does not require a lot of work and it can be
good
for you.
However, being able to cook up a meatloaf after an 8-hour day at work can be a daunting task. There are just
too many
things that happen for you to take the time and prepare a delicious, hearty meatloaf.
Let's face it… your life does not revolve around the kitchen.
However, you could simplify your time if you had a
crock
pot. There are so many delicious recipes you can make with crock pots but this one is my absolute favorite.
This recipe
features
a meat
loaf
that is cooked with some hearty gold potatoes and rosemary. The result is this rich, indulgent, hearty flavor. All you need to do is throw in the
ingredients
and set your crock pot for 6-8 hours while your off at work.
Simplify Your Time & Actually Enjoy A Delicious Dinner Recipe That Will Have You Begging For Seconds…
You can make this in the morning and come back to a fully-cooked meal. Let the
crock
pot do the work!
2 potatoes, peeled and cut into 1-inch

cubes

2 pounds ground beef
1/2 pound hot

Italian

turkey

sausage

1 large onion, finely chopped
1 1/2 cups ketchup
3/4 cup

crushed

butter-flavored crackers
2 eggs
1/3 cup packed light brown

sugar

1/2 teaspoon yellow mustard

Place potatoes in bottom of a slow cooker.
In a large

bowl

, combine beef, sausage, onion, 3/4 cup ketchup, cracker crumbs, eggs and mix well.
Place over potatoes and shape to form a loaf.
In the same bowl, combine brown sugar, mustard and the remaining ketchup; mix well. Spread over top of loaf.
Cover and cook on the low setting 6 to 10 hours.
~*~ Helpful Hints ~*~
Make sure that you remove the castings from the sausage before you add this to the mix. This may sound amateur but you will be surprised how
many people
do not do this.
You can use a leaner meat if you want to. I suggested beef & turkey but you can use whatever you desire.
Make sure to drain the excess liquid from the pot.
Garnish with Rosemary.
Let Us Know If You Have Ever Made This Before & How You Liked It.
This Recipe Was Adapted From:
Mr. Food Test Kitchen